Whether you are feeding a small group, or treating the whole office, our specialty sandwich platters, salads, desserts and beverages are sure to please everyone! 
---
Catering Orders:
All catering orders require 48 hours' notice.
We will take orders up to 5:00 pm, Monday through Friday.
Order by Friday at 5:00 pm to pick up Monday.
A 24-hour cancellation notice (from time order is placed) is required, fees will apply if less than 24 hours.
Please call or email ASAP to cancel your order. Refer to the confirmation number on your order when contacting us.
Give us a call to discuss your catering order PRIOR to ordering!  We would love to talk to you about any custom requests! Contact us HERE!
To place an order, visit the "Order Online" tab.
---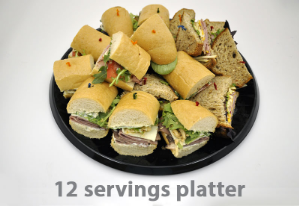 Specialty Sandwich Platters:
Each sandwich platter comes with flatware, salt and pepper, napkins, biodegradable bamboo plates, and serving utensils.
Choose up to 3 types of sandwiches for each platter. (Specialty sandwich descriptions can be found under "sandwiches menu")
SP#12: SERVES 12 PEOPLE: $48.00
SP#24: SERVES 24 PEOPLE: $90.00
SP#36: SERVES 36 PEOPLE: $150.00
Specialty Sandwich choices:
ALL of our specialty sandwiches are available as a platter!
Choose up to 3 specialty sandwiches for each platter, or platter can be one sandwich choice.
---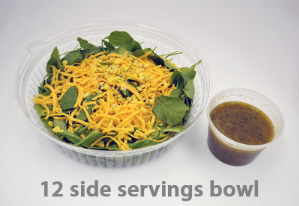 Salad Bowls:
Salad Bowls are portioned as a "side option" with our sandwich platters.
For special salad requests please refer to "Additional Comments and/or requests" box at checkout.
Each salad bowl comes with serving utensils.
SB#12: SERVES 12 PEOPLE: $36.00
SB#24: SERVES 24 PEOPLE: $65.00
SB#36: SERVES 36 PEOPLE: $85.00
Our Salad Bowls choices are:
A#10 HONEYMAN - Arugula, Celery, Provolone, Honey Mustard Vinaigrette 
A#14 ZHANG - Mixed Greens, Apple, Cheddar, Crispy Fried Onions, Herb Dressing 
A#15 DOROTHY- Spinach, Roasted Corn, Cheddar, Apricot Basil Vinaigrette
SI#3  CORN AND CELERY SLAW
---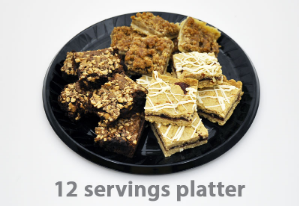 Dessert Platters:
A great way to sweeten up a meal!
Comes with small dessert plates and napkins
DP#1: SERVES 12 PEOPLE: $24.00
DP#2: SERVES 24 PEOPLE: $45.00
DP#3: SERVES 36 PEOPLE: $70.00
Dessert Platter choices are:
D#1 CARAMEL APPLE PIE BAR
D#2 TOFFEE CRUNCH TRIPLE CHOCOLATE BROWNIE
D#3 RASPBERRY ALMOND BAR
D#4 COMBINATION OF THREE BARS
---
Beverages:
See "Beverages - Catering only" tab - on left.