What TWP Catering item made you go YUM!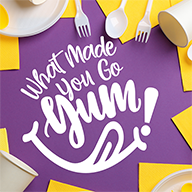 One of the greatest joys in life is discovering a new great food item or meal...that moment when you know your taste buds will never be the same again.
The Whole Person Catering (TWPC) wants to learn about the items you have ordered from our kitchen that made you go YUM! when you ate them.  The sandwich, salad, dessert or item you bought that just made you think "I've gotta get that again!"
For your shared testimony, and photo of you with your YUM! item, you will be entered into our Monthly Drawing for a FREE Box Lunch of your choice!
Share all the details with us about what made you go YUM! over the selections prepared by The Whole Person Catering!
---
Terms for contest and sharing of testimony and photo:
Drawing will be held on the last business day of the month. One name will be drawn at random from the number of submissions received on the first day of the month through the last business day of the month. Winner will be notified by email.
Value of free item is $15 and must be redeemed by date indicated in award email notification. You must use entire amount in one purchase.
An entry consists of written testimony and a photo of the person with The Whole Person Catering item they are reviewing.  Entry is void if either one of these are not submitted.
Winner of the monthly drawing will be posted on our website with their testimony and photo once confirmed.
Submission of your testimony and photo indicates you have granted The Whole Person Catering and The Whole Person to use your likeness/photo and testimony for marketing purposes as outlined below.
---