The Whole Person Catering Team
Our team will make your meal more meaningful by deliciously combining fresh, flavorful cuisine with life-changing employment which prepares people with disabilities for competitive employment.
The Whole Person Catering has built in a comprehensive employment training program for job seekers living with a developmental disability called EmployAbilities.  The team is led by Chef Tiffany Bohm-Taff and Employment Services Manager Katie Crump.  The Whole Person's dynamic Employment Services Team is instrumental in guiding the students in our EmployAbilities program to acquire skills that will assist them in seeking employment.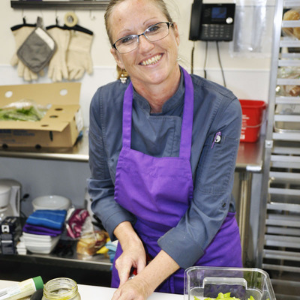 Meet Chef Tiffany Bohm-Taff!
Tiffany Bohm-Taff is a passionate, professionally-trained, and highly successful chef with over 24 years of experience at all levels of food service. Before moving to the Kansas City area, Tiffany ran her own fine dining catering business and has previously held positions at several restaurants including 5-star Abacus Group and Four Seasons kitchens.
Contact Chef Tiffany!
---
Testimonial:
Nadia F. Testimonial

"I got the Paul Levy Salad. I was hesitant of this salad for the longest time as I'm not big on any of the beans except the garbanzo beans. Now that I've tried I'm bummed I hadn't tried it a long time ago! It's become my favorite! I love the light, tart, and crisp salad dressing that comes on it. I also love that Tiffany is willing to sub out a couple of items if like it on a occasion. It's YUMMY!"